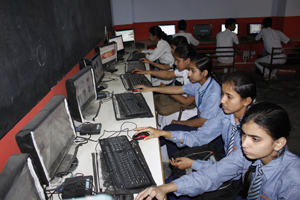 The Salient features of School
The School though located in the heart of the city, is endowed with a lush green campus which provides tranquility necessary for healthy education .The school building has big,airy & spacious classrooms.There is a play ground along with adequate equipments and fittings.The Nursery students are provided with a variety of toys as well as indoor and outdoor equipments to enhance their skills and motor development. The school also provides computer education in well euipped internet connected computer lab.The school is the first in Varanasi to have complete Wi Fi campus along with tablet PC enabled education. The school has co-education in a healthy disciplined atmosphere .The school emphasises on oral learning and developing skills of speaking and listening .Proficiency in English is stressed upon as a pre-requisite of learning science & social science etc.The school aims at reducing the cumbersome burden of excessive writing work at the initial stage and encourages creative writing.The school organises events of diverse kinds-cultural ,sports,dance,drama,singing,debates,elocution,quiz,story telling,tours,& excursions etc.
The school cultivates in the pupils skills of listening,oratory,conversation,reading,writing,observation,analysis and application with logical thinking to develop scientific tempers. Our ultimate strength is our dedicated faculty and staff. It has all modern amenties and facilities to facilitate learning in a child friendly atmosphere . We have Interactive education,with flexible syllabus, less burden of home work specially at the initial stages and stress on understanding as opposed to rote learning. There is learning through educational aids especially audio-visual aids,co-curricular activities, projects, presentations and a variety of interesting modern methods. Psychological help is provided to help develop rational and mature individuals capable of finding their place in society. The school makes no distinction of caste ,creed and nationality & tries to bring integration,understanding spirit of tolerance between students from diverse backgrounds. The school helps in developing concern among students for the society & social welfare as well as respect for all humanity & human labour.
Public speaking is encouraged to gain confidence.We emphasise on sharing knowledge and skills with others.We also develop the personality of the students through special personality development & spoken English classes, career development classes and psychological counselling.We encourage being courteous to everyone.School gives career counselling classes & provides information about advanced learning & career.
Pattern Of Learning
Bal Bharatiya English School strives to inculcate learning based on the experience of mainstream and alternative schools as well as theories propounded by renowned educationists such J.Krishnamurti,John Holt,David Horsborough and others. We are a child centered school. As educators we engage unceasingly with the question:What's best for the child's growth and learning ? We believe in giving the child the leisure to observe the world and grapple with questions.Nourishing affection and attention are provided to each individual student and no comparisons done.Apart from building basic skills in various subjects and learning to enjoy each of them,children develop their potential in a variety of creative areas.
The teaching pattern encourages observation ,working with hands ,enquiry,reflection and creative expression . Learning in the classroom is enriched through experiments,model making,projects, presentations,discussions,debates,seminars, talks,excursions,craft work ,drama,story telling,use of internet ,library and audio visual aids etc.
Classroom
We understand the importance of a classroom in a student's life. Our classrooms at Bal Bharatiya English School help to create an inviting and a nurturing learning environment. They are designed to stimulate the mind and promote learning experiences. Everything within the classroom is curriculum focused. This includes teaching aids, display boards and wall decorations.
Laboratories
I hear, I forget. I see, I remember. I do, I understand. The Science laboratory experiences provide opportunities for students to interact directly with the material or with data drawn, using the tools, data collection techniques, models and theories of science. Our labs are well equipped with the latest apparatus. Students in a hands-on science programme will remember the subject matter better, feel a sense of accomplishment when the task is completed, and be able to transfer that experience easier to other learning situations. Science education aims to provide scientific literacy for all as part of a liberal education and to prepare students for further study, and research work.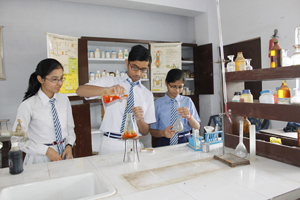 Library
Quality of a library is defined by its resources and atmosphere .The school library provides best of both these factors .To facilitate the students in their quest for the knowledge, the library provides a wealth of knowledge resources by stocking large number of references books, journals, novels and magzines.Flexible working hours, make it easier for the students to fit library research time in theirs demanding academic schedule. The library has been designed to create an ambience that inspires students to learn. Tablet PCs are given to students to do further research on various topics in the library.